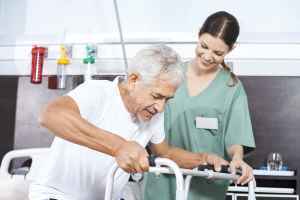 Golden Creek Healthcare and Rehabilitation Center
2100 Dove Crossing Ln, Navasota, TX 77868
Pricing for Golden Creek Healthcare and Rehabilitation Center
| | |
| --- | --- |
| Nursing Care | $4,598* (click below for pricing info) |
* All cost estimates are based on general costs for providers in this local area. Please confirm pricing with each provider directly before making a decision.
Golden Creek Healthcare and Rehabilitation Center Cost Comparisons
Reviews of Golden Creek Healthcare and Rehabilitation Center
by Angry daughter 12/21/2018
My father was put in the so called memory unit around the 1st of October, I checked frequently and it seemed he was getting good care. I was out of town for 8 days but felt he would get good care, But by oct 31 he was transferd to st Joseph hospital in Bryan. He had a pressure sore on is ankle, you could literally see the bone to the muscle and tendons, he was severely dehydrated, he was septic and he had a very acute UTI, his head was matted with filth, his teeth were caked with grunge foul smelling yellow stuff. My dad was 91 and had all is teeth because he always took care of them.,his skin so dry and brittle that the lotion I tried putting on him did not help at all because it was so severe. However this so called nursing home is not even getting a citation from the state, the administration and dr lied and Larry roller the state investigator believed them, the dr said my dad's circulation was bad so nothing could be done to stop the pressure sore, I guess the same circulation caused the finger Marks deeply in my dad's arm. Don't put anyone you love at this facility and please tell others, I watched my dad die a painful death and I my wish is to maybe save a couple of the other defenseless elderly people. They deserve so much more , my dad was a ww2 veteran who was sworn in on is 18th birthday, his brothers ship had already been sunk but he was proud to fight for the country he was so proud of.
Yelp! Review
by Wanda K. 05/01/2017
This is definitely not a facility for dementia Alzheimer patients. Their staff is not trained and the claim to be memory care is because of music therapy....

Read more on Yelp!
About Golden Creek Healthcare and Rehabilitation Center
Golden Creek Healthcare and Rehabilitation Center is a senior care facility situated within Navasota, Texas. The zip code of 77868 which contains this facility is a mostly average income area. It has an average family income of $35,290. It has a medium-density population, with approximately 15,511 people in the surrounding zip code. This facility is centrally located, with retail shopping, religious services, and medical facilities all within close proximity.
More About Golden Creek Healthcare and Rehabilitation Center
Services and Amenities
Service Types
Other Information
Medicare Information
125 Total Beds in the Facility
87 Current Occupants
Certified by Medicare and Medicaid
Medicare Participant Since 04/14/2006
Offers Resident/Family Counciling
Complaints and Deficiences
9 Total Deficiencies Reported
9 Health Standard Deficiencies
0 Health Complaint Deficiencies
0 Total Incidents Reported
4 Total Complaints Reported
0 Total Fines Imposed
$0 in Fines Imposed
0 Payment Denials
0 Penalties Imposed
Other Nearby Communities

Estimated Cost: $4,667 / Month
1405 E Washington, Navasota, TX 77868