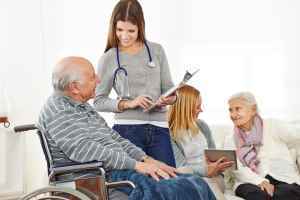 The Highlands Care Center
918 Main St, Laporte, PA 18626
Pricing for The Highlands Care Center
| | |
| --- | --- |
| Nursing Care | $7,617* (click below for pricing info) |
* All cost estimates are based on general costs for providers in this local area. Please confirm pricing with each provider directly before making a decision.
The Highlands Care Center Cost Comparisons
Reviews of The Highlands Care Center
About The Highlands Care Center
Located in Laporte, Pennsylvania, The Highlands Care Center is a clean and pleasant housing community for older individuals. The neighborhood encompassing this community has a sparse population, including approximately 516 residents in the surrounding zip code. It is a predominantly middle class area, with a median family income of $36,653. They are centrally located, with retail shopping, healthcare services, and worship services all within a close distance.
More About The Highlands Care Center
Services and Amenities
Service Types
Nursing Home
Hospice
Respite
Property Amenities
Salon / Barbershop
Dining Room
Store
Room Amenities
Safety / Handicap Features
Cable TV
Kitchens / Kitchenettes
Maintenance
Housekeeping
Activities
Social Activities
Bingo
Bridge
Off-site Outings
Spiritual / Religious Activities
Medical Services
Personal Care Assistance
Stroke Care
Nurses
Speech Therapy
Wound Care
Occupational Therapy
Physical Therapy
Psychiatry Services
Dining
Healthy Snacks
Meals Included
Guest / Family Services
Family Outreach / Education
Insurance Types
Personal Services
Laundry / Dry Cleaning
24-Hour Staff
Transportation Services
Other Information
Medicare Information
120 Total Beds in the Facility
113 Current Occupants
Certified by Medicare and Medicaid
Medicare Participant Since 01/16/1985
Offers Resident/Family Counciling
Complaints and Deficiences
6 Total Deficiencies Reported
4 Health Standard Deficiencies
2 Health Complaint Deficiencies
0 Total Incidents Reported
12 Total Complaints Reported
1 Total Fines Imposed
$60255 in Fines Imposed
1 Payment Denials
2 Penalties Imposed
Other Nearby Communities

Estimated Cost: $5,178 / Month
5865 Route 154, Forksville, PA 18616

Nearby Pharmacies
Dushore Pharmacy - 8.5 Miles Away
Nearby Churches
Millview Wesleyan Church - 7.13 Miles Away