How to Screen a Home Health Care Provider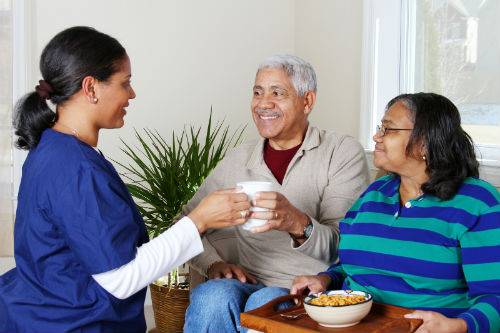 There are many families who ultimately choose to hire a home health care professional to help care for a senior loved one and provide them with the attention they need in order to live safely in their own homes. A home health care provider can be a powerful ally in any senior's care plan. However, in order to ensure all parties are comfortable with any type of home care situation, it is important that the family of any senor considering home care, take the time to screen the health care providers they are considering. This home care provider will be responsible for the day-to-day safety and care of the senior and they will also be spending a great deal of time in that senior's private home.
Hiring the right home health care provider can make all of the difference in the world for any senior, which is why all family members and loved ones involved in this decision should take the screening process very carefully.
What to Expect From Home Health Care Providers
Different seniors need differing levels of in-home care. Before hiring a home health aide, it is important that seniors and their families know what home health care is. While some seniors only need someone to watch them or help them with home tasks, others need around the clock 24-hour care. A home care provider needs to be willing and capable to provide the type of care the specific senior in question needs. Some families choose to hire live-in help, while other prefer to pay caregivers hourly or by the day.
Family members involved in helping seniors find their ideal caregiver should begin by assessing their home-care needs. Typically home care includes some or all of the following types of care:
Household Care-Including help with cleaning, cooking, laundry and running errands.
Emotional Care- Providing companionship.
Personal Care- Including eating, dressing and grooming.
Health Care- Including medication management, physical therapy and assistance with doctor's visits.
For those individuals who need 24-hour care, around the clock, it is important to remember to never try to hire someone for 24-hours a day, seven days a week. Caregivers need some type of reprieve in order to rest and to be capable of providing the best care possible for their patients. No individual can be expected to work 24-hours a day around the clock with no break and still do their best. Individuals who require full-time care such as this should consider two different caregivers to take care of the shifts.
Special Steps to Take During the Screening Process
The number one goal of hiring the best caregiver for a senior in need, should be to make sure this individual is trustworthy and capable of taking on the responsibility of providing quality home care. This is why it is essential that individuals screen potential caregivers and take the time to choose the right professional for the job. Screening a home health care provider is serious business. In addition to looking into their background in the home health care field, it is also important that families look into who has a person they are inviting into their home. Before any interview begins, families should make sure they have the following information:
Full name, address and phone number
Social security number and photo ID for a background check, or a printed out background and credit check from their agency
Current documentation (from the individual or the agency) on personal insurance, worker's compensation and current health status including TB shots and immunizations
Documentation on areas in which the care provider is trained or certified (i.e. CPR or dementia care)
References from past clients and employers
A detailed work history that covers the individual's experience as an in-home aide
Whether families decide to use an agency or hire an individual separately, a great place to start is with a referral from a friend or loved one. When using an agency to hire a home care provider. It is important to follow up with the following questions:
Who will supervise to home care provider?
What type of screening is done on each home care provider?
What type of training have employees of this agency received?
How do you handle employees who cannot show up to their shift?
What agency fees are included in the cost?
Can the agency provide transportation for my loved one?
Together these questions and this information can help any family find the right home care professional for their unique situation.
Interview Questions to Ask a Home Health Care Provider
Before hiring any home health professional, it is important to conduct a thorough interview of this individual, even when working through an agency. Meeting the individual first-hand and being able to ask them questions is an essential step in choosing a home health care provider. While family members and individuals involved in the selection process should come up with a list of questions they feel comfortable with, these are some suggested questions that can help narrow down options when choosing a home health care provider.
Why did you leave your last job?
What is your hourly rate?
Do you have the transportation needed to arrive to this position on-time?
How do you prefer to be paid?
What is your availability and what days do you plan on working?
What would you say your strengths are as a home care provider?
What areas do you need to work on?
How do you prefer to receive suggestions?
What do you like most about home care?
What are the biggest challenges of home care?
What was an obstacle you had to face with your last client and how did you overcome it?
With insight into questions such as this, any family member or loved one can help the special senior in their lives find a home care professional that will provide them with the care and assistance they need to thrive safely while in their own home.