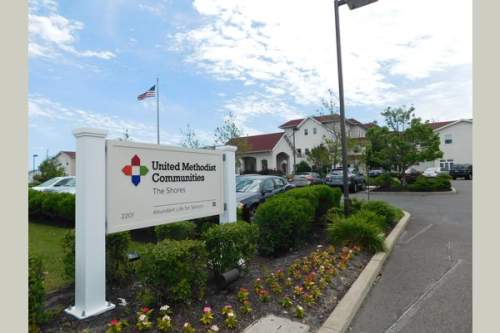 The Shores at Wesley Manor
2201 Bay Ave
Ocean City, NJ 08226
$ Request Pricing Write a Review
Categories: Assisted Living, Nursing Home, Independent Living, Retirement Home, Memory Care, Hospice, Respite
Overview
The Shores at Wesley Manor is situated in Ocean City, New Jersey. They offer senior housing in a 60 unit community for older individuals in a well-maintained and engaging environment. The area encompassing this community has an average population density, with roughly 11,701 people in the zip code of 08226. It is a largely middle income area, with a median per-home income of $57,881. The residence is located near by many local conveniences, which include healthcare facilities, churches, and shopping. There are 15 churches within 4 miles, including Holy Trinity Episcopal Church, St Augustine's Church, Alspach Albert E Rev, and St John's Lutheran Church. There are 3 drug stores within one mile of the community. They're also located just 3.3 miles from Shore Memorial Hospital.
The Shores at Wesley Manor offers dementia care, nursing home care, independent living, and assisted living. They can care for people who are living with memory loss and who have difficulty with day-to-day tasks, and who require close support on a routine basis. They can also accommodate people who are mostly unable to move freely and need to be under the care of nurses 24-hours a day. Additionally they can house people who are healthy and active and who want to live around other senior citizens and enjoy services like housekeeping and on-site maintenance in an enjoyable, social setting. Finally, they can assist people who need assistance with day-to-day tasks like preparing meals, bathing, and housekeeping, but who are able to move around and are somewhat independent.
This residence features various health services such as help with medication, nurses on staff, assistance with personal care, and pain management. Additionally, they feature different facility features that include a book collection, a community dining hall, a computer room, and an on-site restaurant. Finally, they feature several housing options including studio suites, two bedroom suites, and single bedroom suites.
The Shores at Wesley Manor has been certified by both Medicaid and Medicare for 18 years. In the most recent Medicare ratings, they obtained a score of 5 / 5 stars based on a combined measure of safety assessments, personnel reviews, and all-around quality. They had 0 payment denials, 0 deficiencies recorded, 0 complaints reported, 0 total penalties imposed, and 0 fines imposed within this period.
Community Features



Property Amenities

Computer Room
Library
Dining Room
Restaurant



Room Amenities

Maintenance
Housekeeping



Room Options

Studio / Efficiency
Two Bedrooms
One Bedroom



Activities

Spiritual / Religious Activities
Social Activities



Medical Services

Personal Care Assistance
Medication Support
Nurses
Pain Management



Dining

Meals Included



Guest / Family Services

Family Outreach / Education



Insurance Types

Insurance
Medicaid
Medicare



Personal Services

24-Hour Staff
Transportation Services



Other Information

60 Total Units



Medicare Information

60 Total Beds in the Facility
45 Current Occupants
Certified by Medicare and Medicaid
Medicare Participant Since 02/16/1998
Offers Resident/Family Counciling



Complaints and Deficiences

0 Total Deficiencies Reported
0 Health Standard Deficiencies
0 Health Complaint Deficiencies
0 Total Incidents Reported
0 Total Complaints Reported
0 Total Fines Imposed
$0 in Fines Imposed
0 Payment Denials
0 Penalties Imposed
by jennie ashley 05/14/2018
It's been an excellent experience and has met and even exceeded what we expected.