How to Help Seniors Adjust To Life Without Driving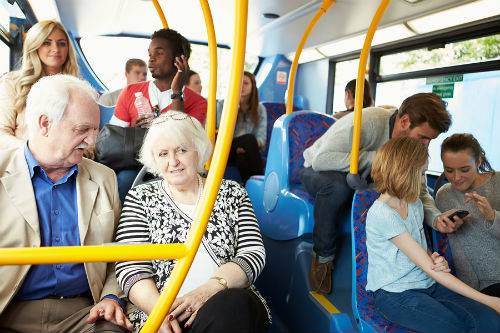 Every day, many seniors from all over the country are told that they can no longer drive safely on their own. Whether it is due to physical or mental limitations, when a senior loses the ability to drive, it can be a difficult transition for all involved. While it can be difficult to tell a senior that they are no longer able to drive on their own, this typically isn't the only challenging part of taking driving privileges away. This new transition often means a new way of life for many seniors.
Many times after the initial shock of being unable to drive has worn off, seniors need to start learning how to get along without their vehicle. Caregivers should be around to help with this transition to ensure that their senior loved one doesn't end up socially isolated or lonely and that they can continue to maintain a great quality of life, even without their vehicle.
Keeping a Schedule
Taking away a senior's vehicle can mark a big change in the lives of any older adult. However, just because their driving situation changes, it doesn't mean that their entire schedule has to change along with it. It is important to make accommodations for seniors to make sure they are able to maintain their normal schedule and attend all of their outings and appointments as needed. This also includes running errands.
Some seniors can rely on public transportation or local senior transportation services to get around. Others may need to have a family member or loved one drive them when needed. There are also caregivers available that can help make certain seniors are getting the transportation services they need to stay on their schedule. The more normal a senior's schedule can be, the easier this transition to life without a car will likely become.
The sooner you are able to figure out alternative transportation arrangements, the better. This not only means exploring public options and finding available drivers, this means determining what to do with the senior's car. Some families choose to sell the car right away, while others may find that having a car around for others to drive is more helpful during the transition. Additionally, many seniors feel more comfortable having other people drive their car, rather than relying on others entirely as they get used to this new way of life.
Helping Seniors Learn About Public Transportation
For many seniors first getting used to life without a car, the idea of public transportation can seem frightening and overwhelming. However, over time, many seniors find that public transportation ultimately becomes one of their favorite ways to get around.
If a senior has never used the local train or bus before, it is always a good idea to ride with them several times, until they are confident in the process and what routes they are supposed to take. Ride with them a handful of times until you and the senior feel comfortable.
For seniors who want to rely on taxis for their errands, it is important to make sure that they have a list of local taxi numbers readily available when they need them. Most seniors will not be able to hail a taxi from their driveway or from the grocery store, and may need to have quick access to these numbers.
Finally, many seniors today are relying on ride-sharing services such as Uber or Lyft. There are even some services in local areas designed specifically for seniors. Download the app on the senior's smartphone and show them how to access these services. Again, ride with them the first few times, as the idea of one of these services can seem foreign and overwhelming to some seniors. However, over time, chances are they will start to see that Uber is like having their own personal driver.
Keeping Social Engagements in Mind
One of the biggest issues that impacts seniors today, especially seniors that live alone, is loneliness and social isolation. Loneliness can actually lead to several health issues, cognitive decline, depression and even malnutrition. Seniors who are not able to drive on their own, are much more likely to deal with these issues than seniors who still have their car.
This is why it is important for friends, family members and caregivers to keep social engagements in mind when they decide to take the keys away from their loved ones. Seniors still need to be able to leave the house and visit with friends and family members and they still need to feel connected with the outside world. There are a few ways that loved ones can help with this:
Helping seniors get online and start shopping, using social media or even reading articles online. This can help any senior feel more connected with the outside world.
Creating new traditions outside of the house. Whether it is Saturday morning coffee down the street or family meals Sunday nights, start creating a social tradition for seniors that gest them out of the house every week. This will not only help them feel engaged once they have lost their car, but it can also give them something new to look forward to every week.
Get everyone involved. Most seniors hate asking for rides, so start creating an army of potential drivers. Encourage them to reach out to the senior and volunteer their driving services, even if they aren't asked. Whether its offering to take them shopping, scheduling a time for the grocery store or just picking them up for church, seniors who have lost their car will always appreciate someone reaching out to offer them a ride.
Little efforts such as this can really go a long way when it comes to helping seniors feel more connected with the world around them. While taking a senior's keys away can be traumatic, the more that their loved ones do to make sure they have visitors, go on outings, stay social and stay engaged, the better off that senior will be. If loneliness and social isolation does become an issue after a senior loses their car, it may be time to consider a retirement community or assisted living facility that can provide these seniors with the social engagement they need.