Creating Unforgettable Adventures: Tips to Promote Safe and Exciting Trips for Seniors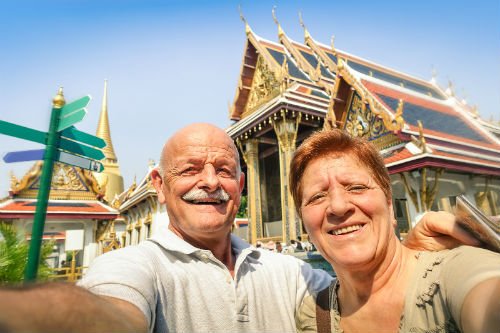 It's the chance of a lifetime (and the culmination of careful budgeting). You're soon to depart for international shores, where endless sprawls of sand, sun, and surf will greet you. You've dreamed of this journey - but, as you arrive at the gate and offer the attendant your passport, that dream turns into a nightmare.
The country you're bound for, she explains, has strict validity rules: with all passports needing (at least) six months of time remaining on their expiration dates. Your document has only three. Crossing the border will be impossible - and you stand, baffled, by this sudden, tragic turn of events. Your vacation is over before it even begins.
This… is simply not fair.
Travel inspires romantic notions, conjuring images of distant destinations and natural wonders. Too often, however, do simple miscalculations strip away this romance - leaving seniors to bear the burden of bureaucratic demands. To ensure that each trip remains unforgettable (for all of the right reasons), travelers should take great care to plan each step of their adventure. Mastering little details are essential.
Examining the Travel Trend: Seniors on the Move
The need to explore the world is impossible to deny - at any age. Seniors are expanding their horizons, flocking to airports, harbors, and every train station in between. According to a recent study by AARP, the Baby Boomer generation will soon dominate the travel market:
99% of all seniors anticipate engaging in some form of leisure travel, with many predicting up to five unique trips.
45% of seniors are currently planning both domestic and international trips.
5% of seniors are currently planning exclusively international trips.
12% of seniors admit to booking trips months in advance, while 48% view travel as a whim.
The most popular overseas destinations for seniors are Europe and the Caribbean while Florida and New York rank the highest nationally.
These statistics showcase a growing presence of seniors (both abroad and in the United States), with millions of men and women heeding the call of the open road. For many, however, this call will sputter into a series of mistakes - with improper documentation, a lack of insurance, medical complications, and more plaguing every mile.
It becomes crucial, therefore, to implement a plan for every vacation, with seniors protecting themselves against dissatisfying (and perhaps even dangerous) experiences.
Creating a Travel Plan: Tips for Seniors
Discovering what waits beyond the door requires far more than a suitcase and a dream. Seniors must instead rely on proper planning to secure their holidays. By developing simple strategies, they can better accommodate changing rules, regulations, and border demands.
Choose Travel Insurance
Travel rarely is perfect. Little complications - such as lost luggage, sudden cancelations, and medical expenses - define most trips, leaving seniors to suffer in the inconvenient aftermath. Insurance provides relief from these inconveniences.
According to the US Travel Association, 152 million Americans currently use some form of travel-related protection, with the number of total plans sold delivering a staggering 17.6% year-over-year increase in 2014. Seniors should embrace this statistic. Insurance delivers key protections (both locally and internationally), with plans tailored to:
Trip Cancelations - allowing for full reimbursement of non-refundable tickets.
Trip Interruptions - allowing for additional vacation funds should an emergency arise (such as a need to purchase new tickets due to illness).
Emergency Expenses - allowing for limited or even full medical coverage or evacuations.
Lost Baggage - allowing for full reimbursement of lost baggage.
These plans afford seniors a rare security, ensuring that they remain protected while away from home. Typical policies, according to Travel Insurance Review, cost between 4% to 8% of the total vacation. Rates will vary, however, depending on chosen provisions. Discuss each option at length with a booking agent to find the right package for every trip.
Verify Passport Validity
No document proves more essential to the travel process than a passport. These collections of ink and paper allow seniors to cross borders effortlessly. Should their expiration dates boast limited time-frames, however, they may trigger complications - specifically in regards to entering new countries.
Each nation abides by a unique set of rules, and these rules apply to passports too. Recent global administrative changes require expiration dates to extend between three to twelve months past each passenger's day of arrival. This is to ensure that individuals can't prolong their stays indefinitely (or illegally). Seniors aren't exempt from this policy and must, therefore, produce valid passports.
When seeking another country, those 65 and older should first verify expiration rules. According to the US Bureau of Consular Affairs, some of the most popular destinations require:
France - passport must be valid for a minimum of six months at entry and an additional three months at departure.
Germany - passport must be valid for a minimum of three months at departure and contain at least two blank pages.
China - passport must be valid for a minimum of six months at entry.
Russia - passport must be valid for a minimum of six months beyond intended stay.
St. Eustatius - passport must be valid for a minimum of three months beyond intended stay.
Italy - passport must be valid for a minimum of six months at departure.
Seniors should contact local consultants to verify passport regulations.
Examine Healthcare Coverage
The foundation of senior health is Medicare. Through it, men and women receive both the inpatient and outpatient services they need. Too often, however, these same men and women find their coverage lacking overseas. Most policies don't extend beyond the United States.
According to Medicare.gov, seniors may rely on general healthcare coverage while traveling within the U.S. or its territories, including Columbia, Puerto Rico, the Virgin Islands, Guam, the Northern Mariana Islands, and American Samoa. International travel beyond these territories negates the policies - except for three highly specific exceptions:
Seniors are involved in a medical emergency while in the U.S., and a foreign hospital (in Mexico, Canada, or the Caribbean isles) is the closest available option to treat the emergency.
Seniors are involved in a medical emergency while in Canada and cannot delay treatment.
Seniors live in the United States, but a foreign hospital is closer to their locations (no emergency is required).
It's critical for seniors to recognize the limitations of Medicare - choosing instead to purchase supplemental insurance for extended their vacations. This is the only way to secure proper aid overseas.
Understand Prescription Limitations
The American Society of Consultant Pharmacists recently revealed that seniors - despite representing just 13% of the total population - consume 40% of issued prescription drugs and 35% of issued over-the-counter drugs. It also noted that those between 65 and 69 require 14 prescriptions per year while those aged 80 to 84 require 18.
Baby boomers rely on medication, and that reliance doesn't disappear when traveling. Legal limitations, however, may prove difficult to overcome when entering new countries. Prescriptions are heavily regulated by foreign divisions, and border-crossings are occasionally refused for those introducing narcotic or psychotropic drugs into the environment.
According to the International Narcotics Control Board (INCB), seniors traveling with prescriptions:
Are only allowed to carry quantities of such substances for personal use for up to one month.
Must have a letter of proof from their physicians, verifying the need for medication.
These two standards prove universal. Each country, however, has its own prescription policies and seniors should verify drug laws with U.S. embassies before arriving. This is the only way to ensure legal compliance.
Choose Safe Countries
The world is a wondrous place - but too often is that wonder undermined by rising crime rates, disease, and insurmountable cultural differences. Traveling to certain corners of the globe exposes seniors to infinite possibilities... and these possibilities can sometimes be dangerous.
It becomes essential, therefore, to choose safe environments to explore. According to a recent study from the Independent, heightened medical concerns (such as malaria, ebola, or yellow fever), high crimes rates, or active terrorism threats render the following countries unsafe:
Afghanistan
Burundi
Central African Republic
Chad
Democratic Republic of the Congo
Guinea
Ira
Libya
Mauritania
Niger
Palestinian Territories (including West Bank and the Gaza Strip)
Sierra Leone
Somalia
Somaliland
South Sudan
Syria
Tunisia
Yemen
Traveling to these regions is not recommended by either the United States government or the Foreign Office. Both stress extreme caution when considering crossing these borders. Other countries - including parts of Egypt, Haiti, Nepal, Turkey, and Russia - are also advised against, due to rising political tensions.
Before seeking out any of the above countries, seniors are strongly encouraged to contact U.S. Embassy representatives and verify current safety standards.
By following these simple suggestions - purchasing insurance, examining passport requirements, understanding Medicare coverage, validating prescription policies, and choosing safe destinations - seniors can better control their vacations.
Conclusion
A simple mistake can trigger unfortunate consequences - and, as you're forced to endure endless passport examinations (while your flight pulls slowly away from the tarmac), you can't help but sigh. This trip was meant to be an incredible experience. Now it's merely an incredible inconvenience.
By utilizing proper planning, however, your future endeavors will be far more enjoyable: allowing you to explore the world both safely and seamlessly. Learn to navigate the rules of travel before navigating the globe.